Mercedes-Benz Vans - Two Great Options to Make Your Business Succeed
Here at Mercedes-Benz of State College, we know you have many options when shopping for a roomy cargo or passenger van for your business.
But, with the Mercedes-Benz signature three-point star logo emblazoned on the front of our collection of work-ready vans, we also know that none of those other carmakers' vans can even come close to the reliability and comfort of our Mercedes-Benz Sprinter Vans and Mercedes-Benz Metris Vans.
Mercedes-Benz Metris and Sprinter Vans - What's the Difference?
Mercedes-Benz has been in the full-sized cargo van market for years with their high-end Sprinter vans that are perfect for work or play. But, a few model years ago, they came out with the Metris van, filling a huge gap in the current market of vans that could be customized to carry either people or cargo.
The biggest difference between the Mercedes-Benz Sprinter and the Mercedes-Benz Metris is size, of course. A regular-length Sprinter van measures around 233 inches, versus a Metris van's length of 202 inches. Plus, the Mercedes-Benz Sprinter van comes in a longer wheelbase option and a high-roof option to expand the cargo or passenger space. The Mercedes-Benz Metris van only comes in one size.
Mercedes-Benz Metris Van Specs and Configurations
The Mercedes-Benz Metris van is a great work van regardless of if your business requires you to carry a lot of passengers or a lot of cargo.
Configured as a cargo van, the Metris comes with two bucket seats in the front and a spacious cargo hold in the rear that can hold 186 cubic feet of gear.
Configured as a people mover, the Metris can carry up to eight people and still has a respectable cargo hold that can hold 38 cubic feet of gear.
There are actually four versions of the Mercedes-Benz Metris van, including:
Mercedes-Benz Metris Cargo Van
Mercedes-Benz Metris Passenger Van
Mercedes-Benz Metris Worker Cargo Van
Mercedes-Benz Metris Worker Passenger Van
All of the Metris vans are equipped with a turbocharged 2.0-liter four-cylinder engine that offers 208 horsepower and 258 pound-feet of torque. Plus, all Metris van options come equipped with great standard features, including automatic headlights.
For added creature comfort and safety features, Mercedes-Benz makes available a number of special add-on packages, including the Premium Safety package, which adds a lane departure warning system, a forward collision warning and automated parallel parking.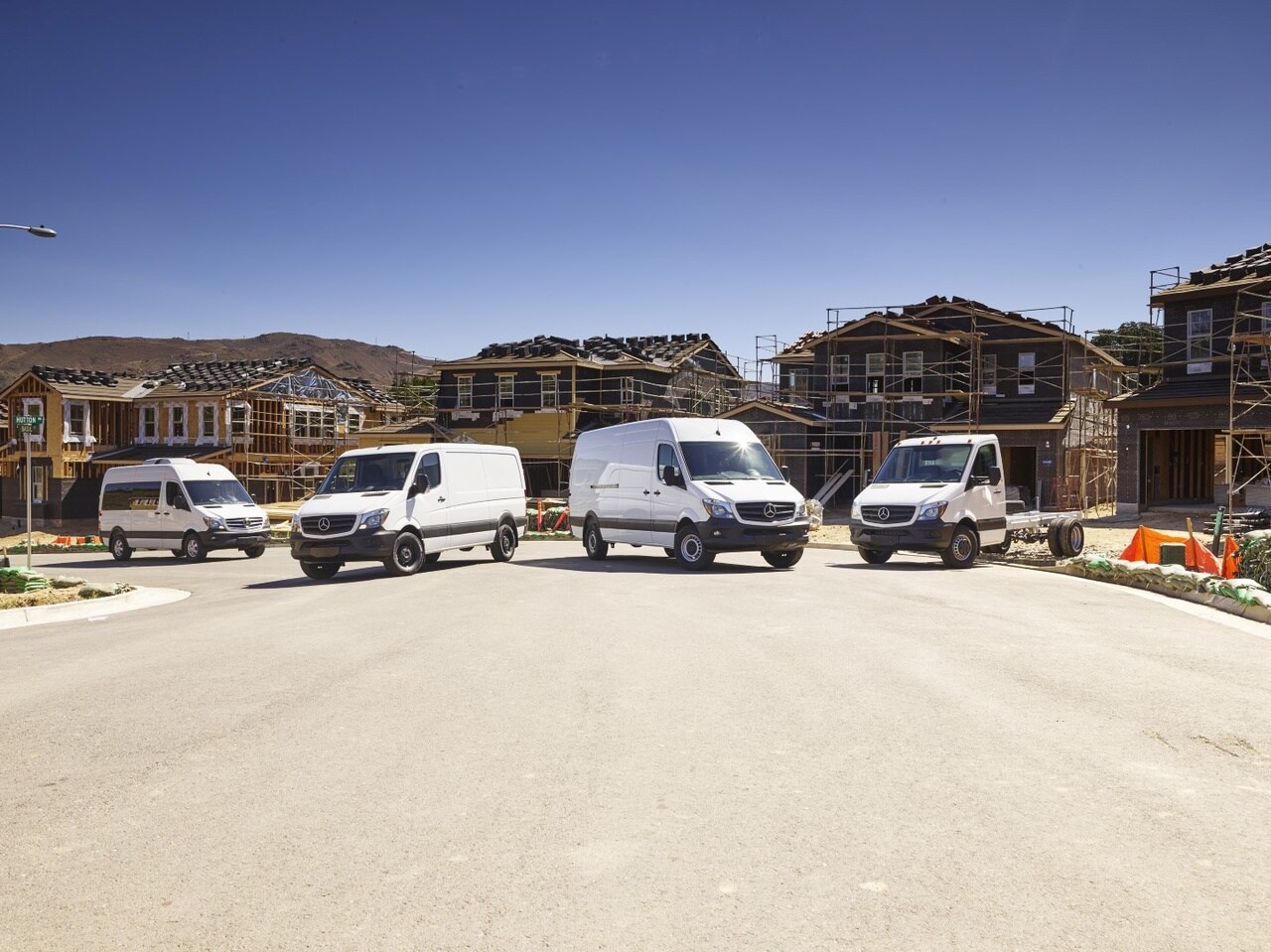 Mercedes-Benz Sprinter Van Specs and Configurations
The larger Mercedes-Benz Sprinter vans have a vast number of possible configurations. First, there's the aforementioned regular or extended length, and the regular or high roofline. Then, drivers have the option of regular-duty 2500, or heavy-duty 3500 categories.
Finally, Altoona and State College are drivers considering the Mercedes-Benz Sprinter vans also have their choice of engines and style. The two engine options include either a turbocharged 2.1-liter four-cylinder diesel engine with 161 horsepower, or a 188-horsepower V6 diesel. The various styles that are available include:
Mercedes-Benz Sprinter Cargo Van, configured this way, the Sprinter is two front seats and a huge empty cargo bay that can hold anything you want to put in it, and it's easy to load and unload, thanks to its standard 270-degree-opening rear doors
Mercedes-Benz Sprinter Crew Van, this version of the Sprinter has a front and back seat that can carry up to five people and still has a cavernous cargo area
Mercedes-Benz Sprinter Passenger Van, configured with multiple rows of seats, the Sprinter passenger van can carry up to 12 people
As with all models made by Mercedes-Benz, the Sprinter vans all come with a nice long list of equipment and features that both increase your comfort level and keep you safe.
Plus, the Sprinter van lineup has several available options packages that can be added, including the Active Safety Plus package, which includes numerous safety aids, as well as automatic headlights and automatic windshield wipers.
The Mercedes-Benz Vans Your Business Needs are in State College
With so many configurations and options available to you and your business, the best place to start determining which Mercedes-Benz work van you need is right here at Mercedes-Benz of State College, convenient to Altoona, Huntingdon,  and Lewistown.
Our expert sales team can help you narrow down your van options and choose the perfect one that will make your business thrive. Stop by soon and let us show you all the ways Mercedes-Benz takes the steadfast cargo van genre and puts a world-class, luxurious spin on it.