Welcome to Our Service Centerin State College, PA
Complimentary Loaner Vehicles & Complimentary Car Wash 
Why Service Your Mercedes-Benz Here At Mercedes-Benz of State College
When you drive a Mercedes-Benz vehicle, you expect an experience unrivaled by any other lineup. While Mercedes-Benz cars and SUVs deliver that experience from the moment you drive from our dealership, you can't enjoy that drive forever without routine maintenance care. Whether a simple oil change or something more involved, our Mercedes-Benz service team can assist you today in State College. You can trust our experts to provide the service you need for a safe and comfortable drive. Contact us today to schedule your appointment and discuss available service specials with a team member.
Complimentary Video Multipoint Inspections
 At Ciocca, we believe in transparency and communication, that's why we offer complimentary Video Multipoint Inspections during every service visit. This tool provides a video walkaround of your vehicle, assessing its current state and suggesting any preventative maintenance needed.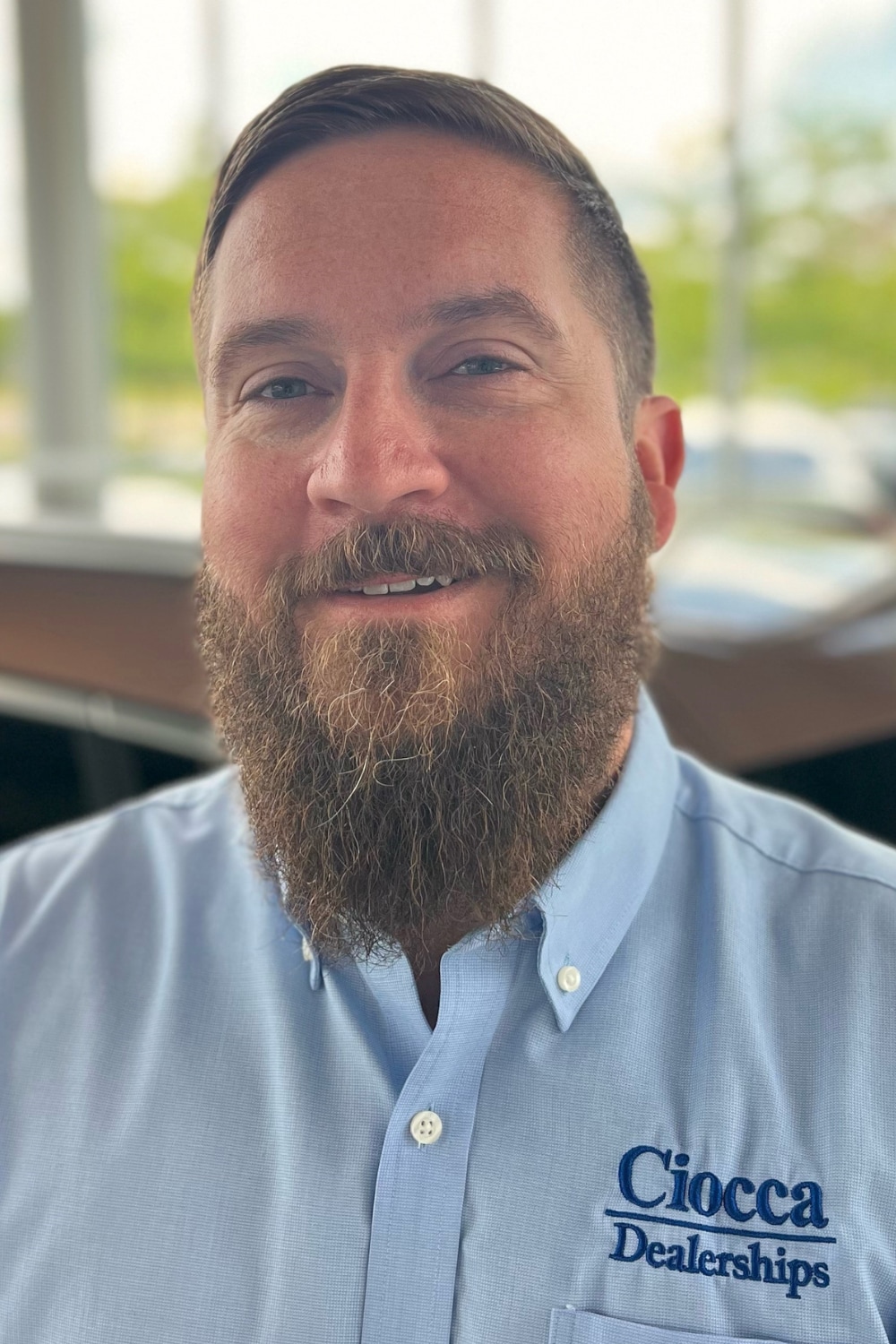 Bryan Fitzgerald
Service Manager
bfitzgerald@cioccadealerships.com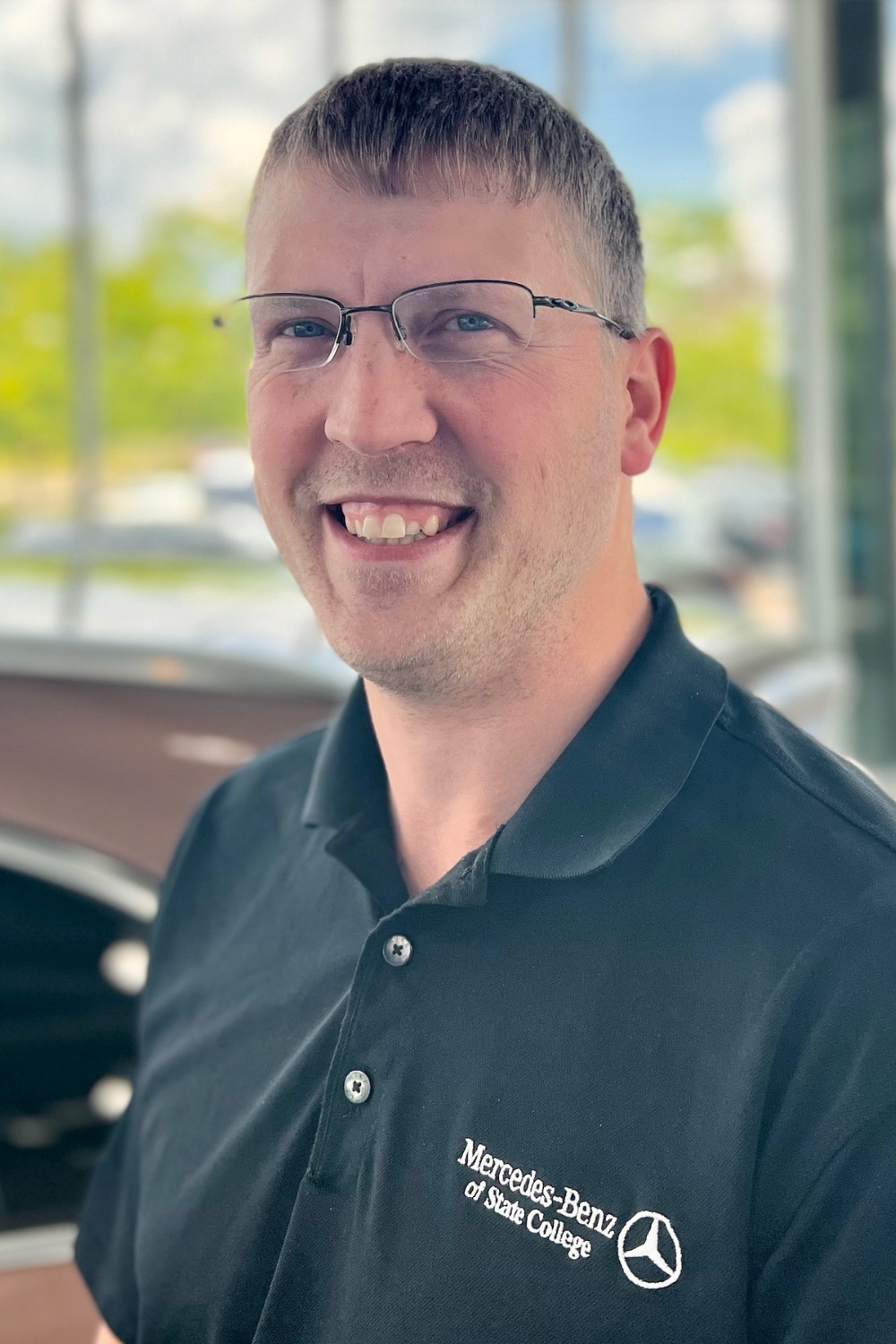 Alex Sadler
Service Advisor
asadler@cioccadealerships.com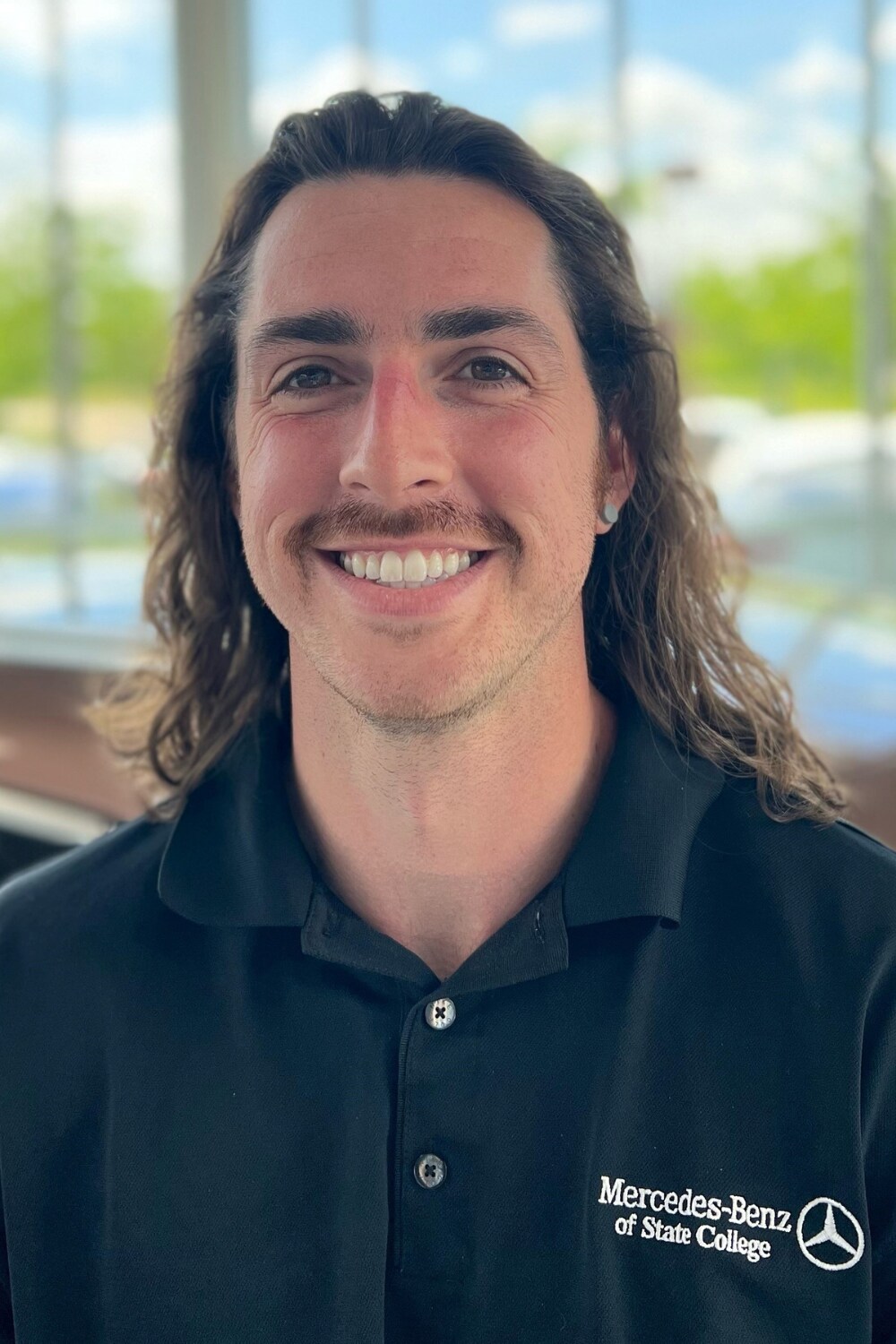 Derrick Morrison
Service Advisor
dmorrison@cioccadealerships.com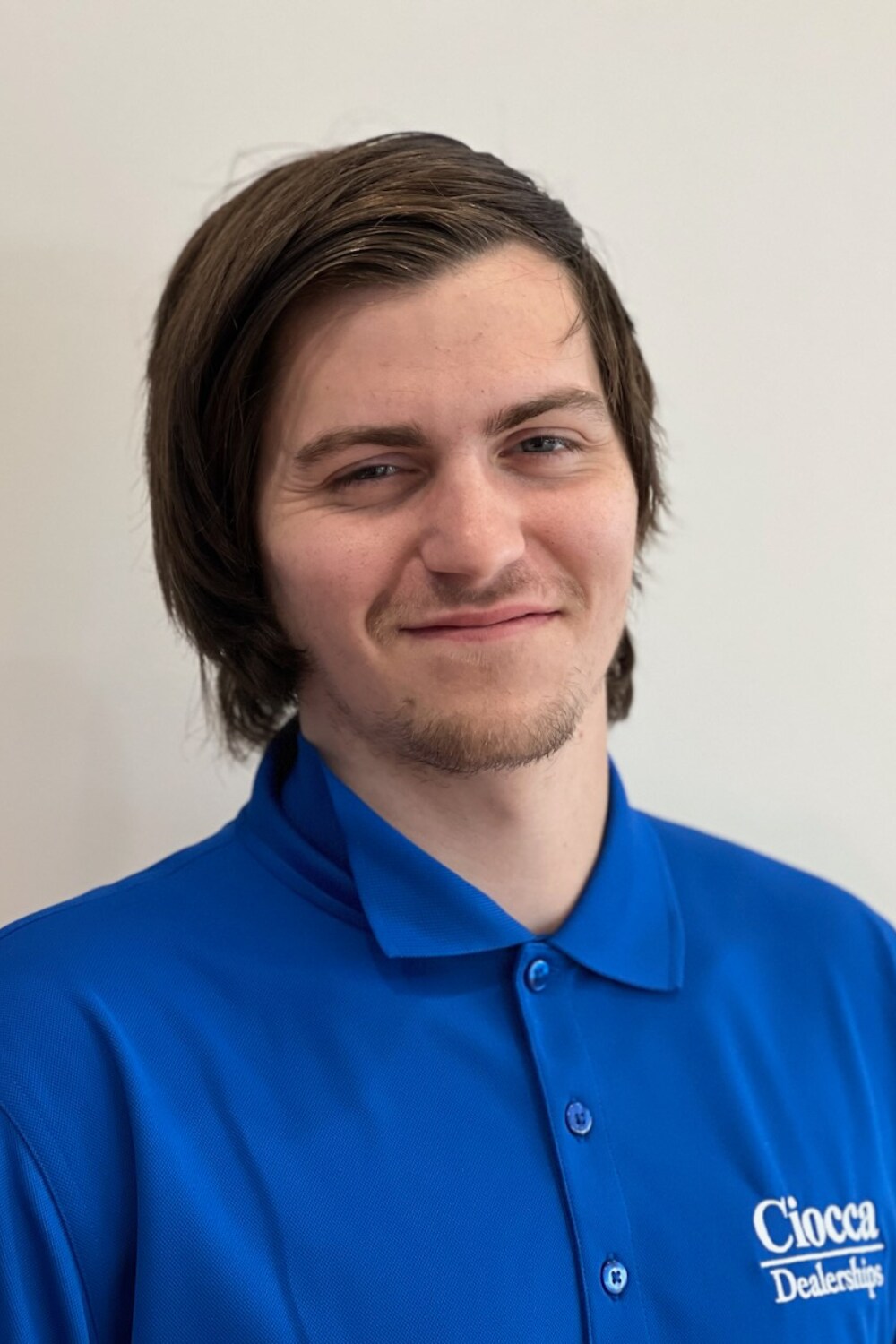 Gavin Jacobs
Service Appointment Coordinator
gjacobs@cioccadealerships.com
Mercedes-Benz Certified Technicians
When you need service you can trust, you don't want to feel limited at your local mechanic. At Mercedes-Benz of State College, we're happy to offer reliable, knowledgeable service catered to your needs. Our service team understands the ins and outs of your luxury vehicle, thanks to our specified training and certification from Mercedes-Benz directly. We stay up-to-date on all common maintenance and repair necessities, ensuring you get fast, effective service and back on the road quickly. Our service team will help with all your service needs, from filter replacement to more in-depth system repairs.
Genuine Mercedes-Benz Parts
Once a part wears down, you'll want to have it replaced. Otherwise, you're forcing your vehicle to manage your commute with decreased performance. Our Mercedes-Benz parts department has the right fit when you need new brake pads or a filter replacement. We only use genuine OEM parts, getting you the best drive. Rather than resort to aftermarket or generic options, we recommend working with our team to enjoy genuine Mercedes-Benz replacements. If you want to order the part separately, we can help you discover our parts specials and get you a great deal when it's time for a replacement.
Common Services & Routine Maintenance
No matter what your vehicle requires, be it big or small repairs under the hood, our service team offers the best care for the Mercedes-Benz model. Our service portfolio extends from simple replacements, like an oil change, to large-scale repairs. Whatever your luxury model needs, our team can help with exceptional service. While you might not always know what goes into a regular service plan, our team can walk you through all common needs and provide a breakdown of what we perform during the appointment.
Tires:
Your Mercedes-Benz vehicle can do a lot, but it can't move without the proper set of tires operating at peak performance level. You'll enjoy a smooth, uninterrupted experience on the road with the right tires. If your tires wear down too far, you may even lose your ability to control your car. Our team can replace your tires and perform services like tire rotations to increase their lifespan.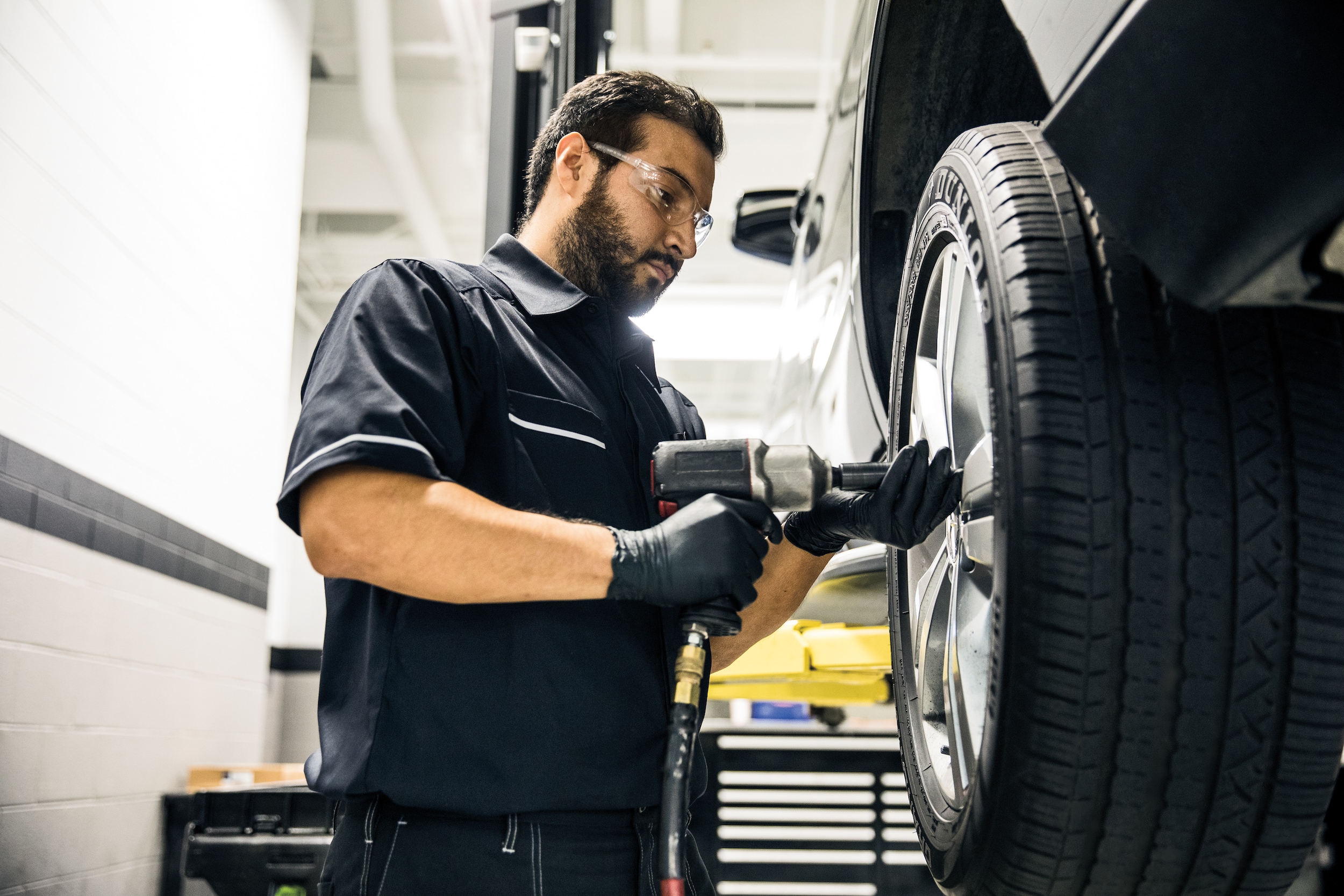 Brakes:
You can't get a safe drive out of your vehicle without your brakes. If they start to lose their effectiveness, you may have difficulty stopping or avoiding collisions with other vehicles. If you're noticing issues with your brakes, we encourage you to visit our service team - we'll check the brake pads, rotors, and fluid to confirm they meet our expectations.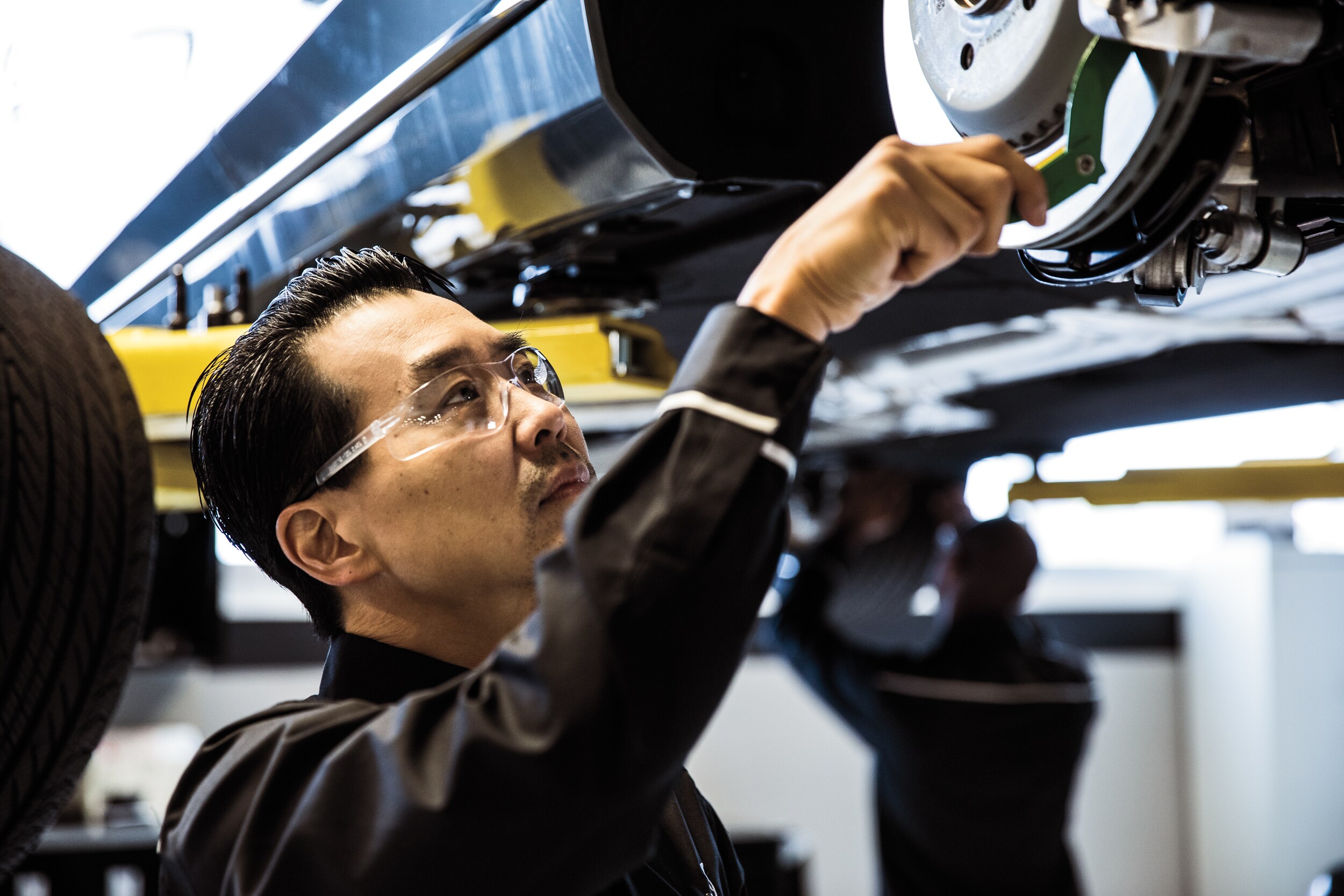 Battery:
Getting stuck with a dead battery can be unpleasant, especially when it's the dead of winter. Hot and cold weather can wear down your battery quickly, leaving you unable to start your car or operate electronics inside. Our service team will check your battery with genuine Mercedes-Benz testers to determine the charge level and if it needs replacement.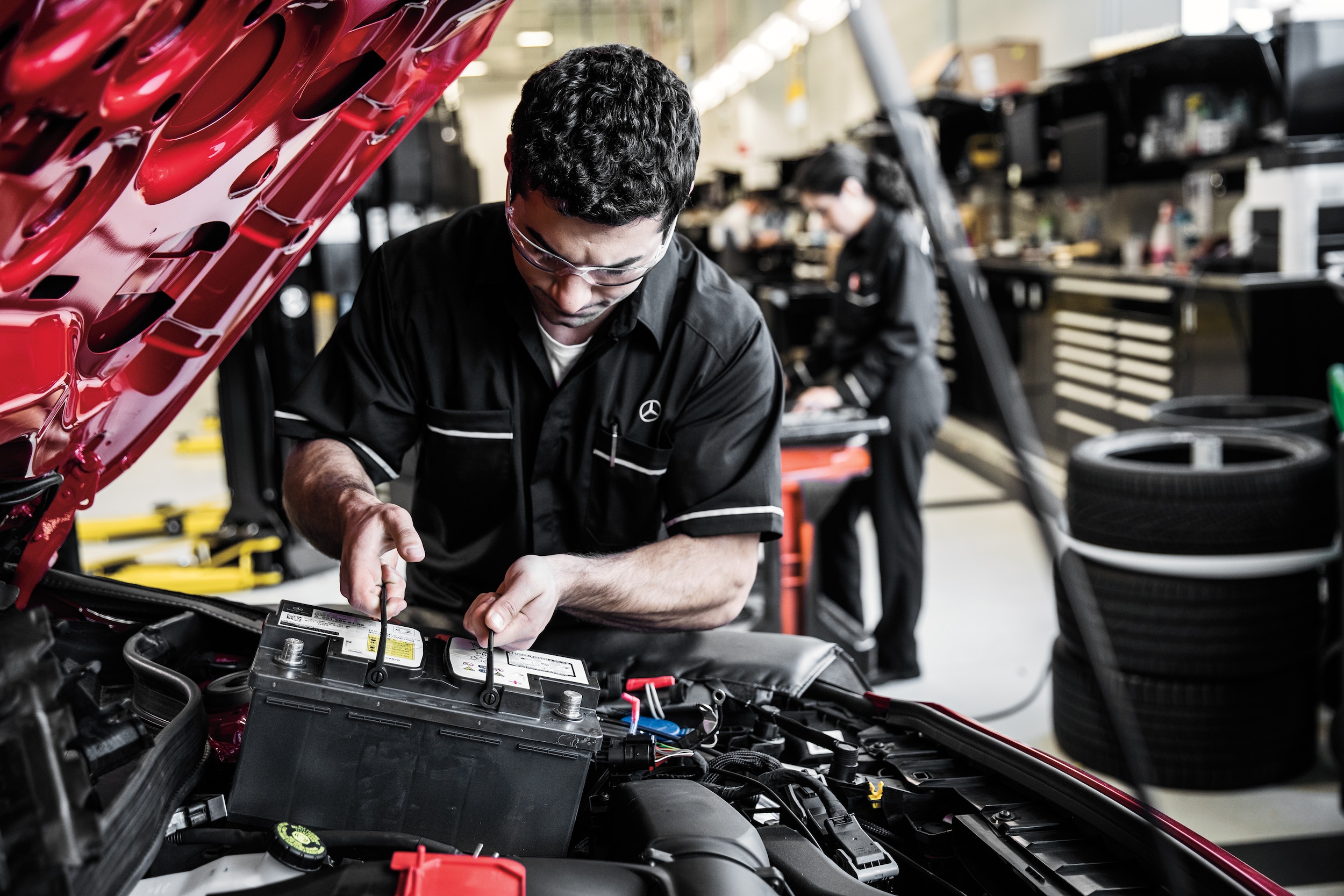 Oil Change:
Your engine keeps your car running, but it can perform optimally without regular oil changes. Our service team recommends routinely scheduled appointments to check your engine oil, where we'll check the level and replace it with new Mercedes-Benz-approved options. Don't let your engine overheat!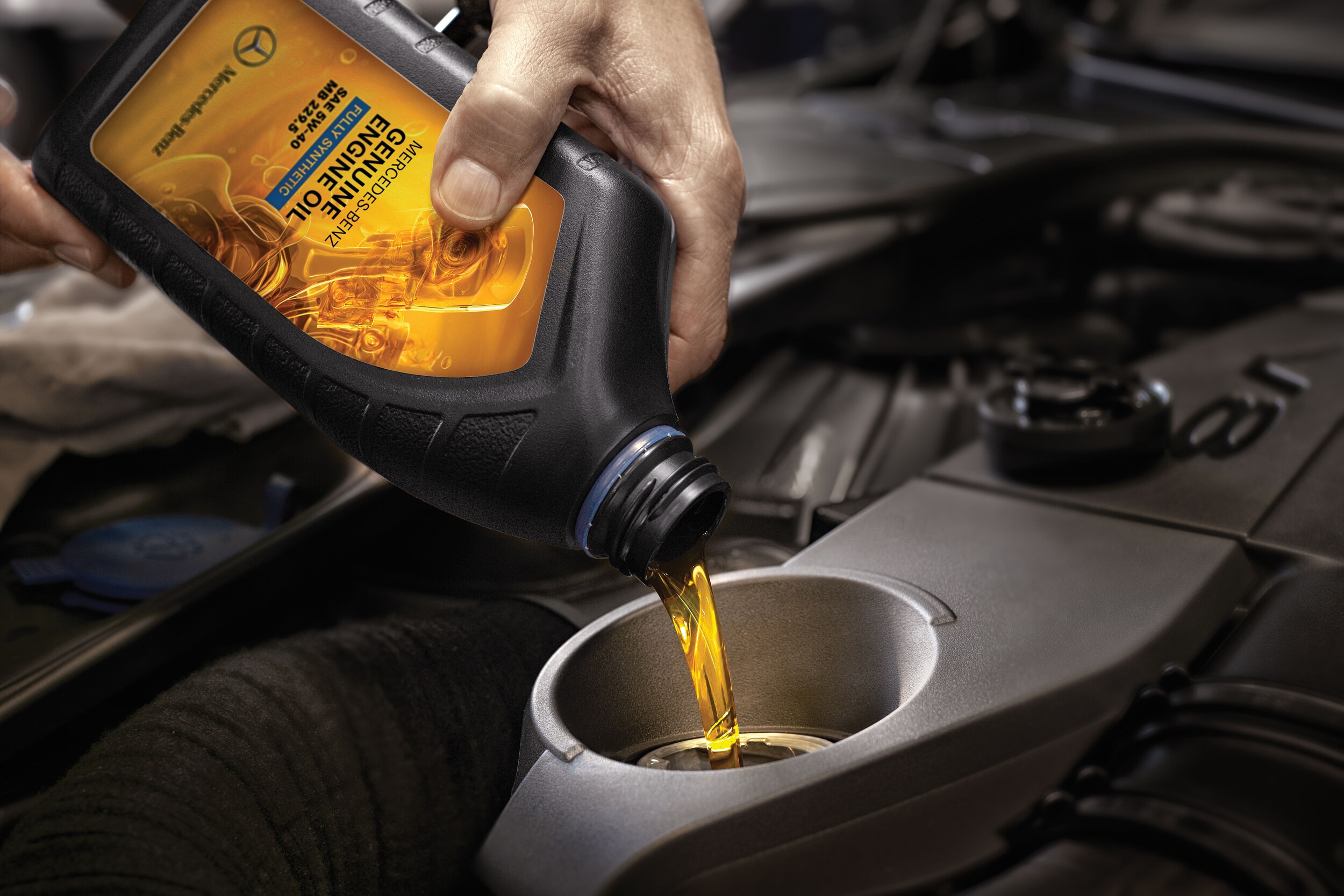 What is Service A?

With the first visit at approximately 10,000 miles or 1 years whichever comes first - and then approximately every 20,000 miles or 2 years after that - Service A includes:
Mercedes-Benz motor oil replacement
Oil filter replacement
Fluid level checks and corrections
Tire inflation check and correction
Brake component inspection
Reset maintenance counter
What is Service B?

With the first visit at approximately 20,000 miles or 1 year after the previous service - and then approximately every 20,000 miles or 2 years after that - Service B includes:
Mercedes-Benz motor oil replacement
Oil filter replacement
Fluid level checks and corrections
Tire inflation check and correction
Cabin dust/combination filter replacement
Brake component inspection
Reset maintenance counter
Our Service Specials
You won't want to skimp on required maintenance for your vehicle. We won't let you go without your regular appointments when you work with the Mercedes-Benz of State College team. We also know it's not always easy to find an affordable service plan, especially for a luxury model. At our dealership, we want to make it easy. We're happy to offer a rotating lineup of service specials. From oil changes to filter replacements and everything in between, we'll help you find a budget-friendly way to find service for your vehicle.
The Ciocca Promise

When you bring your Mercedes-Benz to our team of trusted service professionals, you get more than just great service. You get the Ciocca Promise. And that is as good as gold. When you deal with a Ciocca team, you benefit from complementary services not found anywhere else. Learn more about the Ciocca Promise.
Discounts
10% OFF Transmission Service
10% OFF Full Vehicle Detail
10% OFF Any Accessory Purchase from our Parts Department
Bonus Perks
3 YEARS Collision Deductible Payment for all vehicles in your household* 
12 MONTH/15,000 MILE Tire and Wheel Protection*
1 YEAR Key Fob Replacement* 
12 MONTH/15,000 MILE Paintless Dent Repair*
3 YEAR / 36,000 MILE Extended Repair Order Warranty*
* 1 Up to $250 per tire and up to $400 per wheel. 2 Up to $500 per collision claim. 3 One Key/Remote/Fob/Programming up to $750 claim. 4 Paintless Dent Repair five dents/dings repairs per year. 5 See dealer for details  
Advance Repairs
We always recommend our drivers stick to a service plan that fits their life and caters to their vehicle's needs. However, the daily drive can start to wear down complex systems like the transmission, suspension, and engine. You may need more in-depth repair work for your vehicle, but our Mercedes-Benz service center is still the right place to start. We can provide you with top-notch service plans that take care of your vehicle today, thanks to our manufacturer-provided training and certification. We'll get your Mercedes-Benz car or SUV back on the road before you know it.